Multifamily and Commercial Exterior Envelope Experts
Pacific Exteriors NW is an established Pacific Northwest multifamily and commercial construction contractor for the greater Portland, Oregon, metro, and surrounding areas. Decades of experience with complex construction projects have helped make the staff and our craftsman team one of the northwest's most experienced and knowledgeable exterior envelope contractors. Pacific Exteriors NW multifamily and commercial division services include exterior building envelope repair, commercial siding repair or replacement, siding problems resolved, windows, doors, roofing, and decking. Multifamily reconstruction projects are our specialty, whether the property is newer with construction issues or an older property being remodeled. Pacific Exteriors NW's master craftsman status and certified training with many manufacturers guarantee premium workmanship standards for our quality products.
Are you looking to purchase Multi-Family Housing?
We work on the following types of buildings and structures:
Multifamily
Commercial Buildings
Mixed Use
Hotels
Motels
Apartments
Condominiums
Townhomes
Row Homes
Multiplex
Commercial Plaza Rehab
Senior Living Facilities
High Rise Buildings
Residential
Assisted Living Facilities
Pacific Exteriors NW Services:
Water Intrusion Repair Specialists • Property maintenance • Reconstruction services • Commercial Siding Replacement and Commercial Siding Repair • Solution to all Siding Problems • Window replacement • Door replacement • Roofing replacement and repair • Decking replacement and repair • Construction Defect Repair/Litigation support • Insurance recovery • EIFS/Stucco replacement • Dry-rot/Mold remediation and repair • Forensic thermal Imagery reports and consulting • Scope/Engineered Document Creation-R.F.P • Destructive Testing • Restoration • Building Envelope Investigations • HOA Reserve Studies projected sustainability • Multifamily HOA Financing • Exterior Building Envelope Repair • Property Insurance Claims • Water Damage Insurance Claims • Apartment Rehab Contractor • Commercial Building Rehab Contractor • Apartment Windows Leaking
Our experienced and professional construction team is here to handle these services and help your multifamily and commercial property with:
Water Intrusion, Damage, Dry-rot inspections
Building Maintenance Inspection
Mixed-Use Building Inspection
Destructive Testing (D.T)
First Party Insurance Claims and support
Expert Witness Testimony
Construction Defect Investigation and Analysis
Property Conditions/Damage Assessment
Design Build Details
Structural Engineering
Value Engineering
Project Oversight
Roof Inspection
Asbestos/Lead Paint Testing
Hazardous Material Analysis
Reserve Study Projections
Assisted Living Repairs
Reconstruction
Siding for Multifamily and Commercial Properties
As a James HardiePlank siding installer (Hardie siding) for the Pacific Northwest and based in Portland, we specialize in multifamily apartment siding repair, condominium siding and waterproofing repair, and townhomes. We have the solution to all your siding problems. Many people and associations call it James Hardie, Plank Hardie Siding, or Hardie Board, just for clarification.
Siding Repair and Replacement Services:
Home Siding Repair and Replacement
Multifamily Siding Repair and Replacement
Condominiums Siding Repair and Replacement
Apartment Siding Repair and Replacement
Hotel Siding Repair and Replacement
Commercial Building Siding Repair and Replacement
Siding Removal and Replacement
New Siding Installation
Damaged Siding Repair Experts
Dryrot Siding Repair Experts
Siding Problems Experts
Hardie Plank Siding
Prepainted Hardie Plank Siding
ColorPlus James HardiePlank FiberCement Siding
James Hardie Plank Artisan Siding
James Hardie Reveal Siding
Stucco Siding
Cedar Siding
T1-11 Siding
Wood Siding
Vinyl Siding
Stone and Brick Siding
Fiberboard siding
Fiber cement siding
Preventative Maintenance Packages for Multifamily and Commercial
Pacific Exteriors NW also offers different preventative maintenance packages for long-term protection of the building's envelope, saving property managers or owners thousands of dollars in repairs. Pacific Exteriors NW integrates LEED certification with advances in green building materials, eco-friendly engineering, and production management with our multifamily and commercial projects. Pacific Exteriors NW staff partners with the region's foremost experts on building codes, waterproofing, and flashing methods, with architectural design for inspection compliance and sustainability.
Multifamily and Commercial Division
Pacific Exteriors NW's multifamily and commercial division specializes in apartments, condominium structures, townhomes, apartment complexes, apartment buildings, and commercial buildings such as hotels, banking institutions, and even government buildings. Pacific Exteriors NW is proud of our comprehensive customer support system in place. Our professional, friendly staff and craftsman team represent respect and courtesy to our clients and their many tenants. We also provide reserve study analytics for future maintenance considerations and future projections and costs. Pacific Exteriors NW is dedicated to ensuring our customers are not disturbed during the process, and we are truly sensitive to unique and challenging environments. We also specialize in replacing Certainteed Weatherboards fiber cement siding and LP siding as well as Omni Board siding, Masonite siding, and Weyerhaeuser siding, as all were in class action lawsuits for either water damage that caused dry-rot or defective materials and product failure.
Pacific Exteriors NW builds relationships with architects, building consultants, property managers, condo associations, owners, realtors, and architectural committee design boards. Our experience of working with people from different backgrounds and expectations has helped prepare us over the years for our many complex projects. We have developed unique financing options for these large projects, as we know that financing an HOA or dealing with reconstruction loans can be challenging to fund. Pacific Exteriors NW also considers structural engineering, permits, and waterproofing consultants typically involved in these large-scale projects. We are often called upon for capital improvements, rehab, construction defect repair, and remediation by many insurance companies, property owners, investors, architects, attorneys, and real estate agents. We provide reports that can assist capital investors, property management groups, real estate agents, and financial lending institutions, among others, in determining if the purchase is fiscally smart and sound investment due to capital improvements, maintenance, and building envelope rehab and repair costs. Leaking windows and doors, wind-driven rain, water intrusion, siding installed without a moisture barrier, high moisture content in the walls, dry rot evident, flashing omitted in critical detail areas, seals fogging up, and discoloration to cladding are all common telltale signs of more widespread issues and building flaws.
Here in the Portland metro and Seattle area, apartment buildings and HOA condominiums with siding problems such as rotting or damaged LP siding, EIFS, and DryVit stucco siding, or vinyl siding issues are becoming more widespread due to vinyl siding fading, buckling, warping from vinyl windows, high winds coming off the wall, vinyl siding can also trap moisture and water behind the wall. Many of our capital projects are replacing old and existing vinyl or cedar siding on apartments, condominiums, or townhomes with new HardiePlank (Hardie siding) or other sustainable exterior cladding materials with water management systems. Here in Portland and surrounding areas, Pacific Exteriors NW architectural services and expert team rebuilds communities due to existing dated and failing conditions, construction defects, water intrusion, water damage, or defective materials like the LP siding (Louisiana Pacific) or failing Masonite siding from the late 1980s, and 1990s, EIFS or DRYVIT synthetic stucco, to the defective CertainTeed Weatherboards fiber-cement siding lawsuit due to shrinking and buckling, causing extensive damages and product failure on properties typically constructed or resided from 2005-2013.
In the Pacific Northwest, construction problems, builder issues, moisture issues, water damage, dry rot, siding problems, leaking windows, and water intrusion have been documented in newer and older homes, multifamily and commercial buildings, condominiums, apartments, duplexes, townhomes, hotels, HOA communities and commercial buildings with even mixed-use new build defects or new construction problems and builder disputes over faulty materials and improper waterproofing of the windows and doors.
Financing Overview for Capitol, Multifamily and Commercial Projects:
(Typically for HOA Condominium/Townhome Multifamily Owners)
Association Loan Overview
The HOA is a non-profit and can borrow on behalf of the Association.
Governing Documents must allow the Association to borrow and pledge assessments.
All voting and approval requirements included in the governing documents must be met.
Collateral is the Association's ability and authority to assess and collect from the owners; all current and future assessments (income) are assigned as security.
Association Loan Criteria
Adhere to State Statutes for remediation construction
Scope of Repair should be thorough; if repairs aren't being made, funds must be placed in a reserve account to ensure the property will remain stable during the life of the loan
Loan Concept: There are multiple loan concepts for Associations. Outlined below is a typical association loan scenario:
Construction Line of Credit
Term Loan
Option 1 Example: Construction Line of Credit, fixed-rate, converts to a term loan at project completion
| | |
| --- | --- |
| Line of Credit | To Be Determined- Based on Construction Budget |
| Term | Up to 12 months (renewable after that). |
| Repayment | Interest only, monthly payments with one final payment of all accrued interest and principal due at maturity, to be converted to Facility 2 below. Note: There is no prepayment restriction on the construction line of credit, and it may be converted to the term loan below at any time before expiry. |
| Rate | Typically 4.25 – 4.75% – Fixed Rate during Construction |
 Option 2 Example: Term loan – Fully Amortized – 10 and 15-year terms available
| | |
| --- | --- |
| Loan Amount | The outstanding balance of Facility 1 above upon conversion |
| Term | 10-15 years fully amortizing |
| Repayment | Per month (principal & interest) for 120 – 180 months with an interest rate reset every 60-months |
| Rate | The current Rate determines the month the line of credit converts to a term loan. |
Loan Repayment
Owners are not required to "Opt-in" to loan
There are no Pre-payment penalties for owners or Associations to pay off early
Association loans often do not go full-term
No Personal Guaranty
No liens – buy and sell
No individual credit scoring
No personal assets
Payment Options for Owners
Pay Monthly
Pay a lump sum and avoid interest charges
Pay monthly and pay off the remaining balance at a later date
Utilize home equity loans, savings, 401K, etc.
Sometimes, homeowner's associations need to borrow money for repairs or improvements of the common areas of their community. This process can be difficult and confusing. This article aims to untangle the confusion surrounding this valuable tool.
What is an HOA Loan?
Associations can require loans for a variety of reasons. The most common of those is for repairs. Oftentimes, associations have not set aside monies for repairs. HOA loans can also be used for litigation purposes. Using legal services can be very expensive, and it is not uncommon for associations to pursue litigation against developers. These litigations can take extended periods, and it is sometimes necessary for the association to have additional funds to last them through the litigation process. HOA or condo association loans are issued to the association as a non-profit corporation, not as a consumer loan.
The association's assessment ability usually secures this loan or line of credit. Banks will also reserve the right to assess the association should they become behind on their payments. However, they typically do not put liens on property or tangible assets. HOA associations pay monthly fees, and most banks require that if an association has a loan with them, all of their banking has to go through them. This is typically how HOA loans work; however, specifics vary from bank to bank. HOA loans vary from 3 to 10 years and depend upon the scope of repairs done and the amount of money borrowed.
Not all banks or institutions will lend to HOA associations. HOA loans are usually made by local banks specializing in HOA loans. Banks also look for particular criteria to qualify an association for a loan. Banks prefer associations with low delinquency rates and low ratios of renters to owners. Associations with these qualifications are typically more secure. Loans that are less than 20% of the total value of the units are also preferred. Any higher than this, and the risk becomes too great for the bank. Most banks also require a reserve study done by a professional performed or updated in the last two years. Quite a few things can prevent an HOA loan from going smoothly.
HOA associations' most common error is that they do not get the bank involved soon enough. Banks have particular criteria that they require, and understanding the criteria of the bank early on will be more beneficial. This advanced notice will allow you to prepare better to meet their criteria. Securing the funds from the bank before you enter into a contract is also essential. If an association has an outdated or poorly performed reserve study, it may not be able to get approved. Reserve studies provide the bank with very accurate data about the valuable life of the common elements of a community, as well as what future repairs are on the horizon. Without a clear idea of where an association stands, a bank may not approve.
Defective Siding Alert-(Class Action Lawsuit)
CertainTeed Fiber-Cement Settlement
Pacific Exteriors NW has replaced and repaired more defective CertainTeed fiber cement siding since we are building experts. We specialize in replacing defective siding systems like LP siding, Synthetic Stucco siding, EIFS siding, DryVit siding, Omni Wood, Masonite, Weyerhaeuser, and Cladwood, among others, and now Portland CertainTeed fiber cement siding, which was involved in a class action lawsuit recently. Here are some of the details of the settlement and lawsuit. "VALLEY FORGE, Pa., Nov. 4, 2013 /PRNewswire/ — CertainTeed Corporation and Counsel for the Plaintiffs in In re: CertainTeed Fiber Cement Siding Litigation, MDL Docket No. 2270 (E.D. Pa), announced today that they have agreed to settle various class actions relating to fiber cement siding manufactured by CertainTeed Corporation and installed on or before September 30, 2013.  Plaintiffs, who own properties with the siding, allege that the siding was defective.  CertainTeed believes that its fiber cement siding has performed well over many years but has agreed to the settlement to avoid the expense, inconvenience, and distraction of further protracted litigation and fully resolve this matter. The fiber cement siding included in the settlement is CertainTeed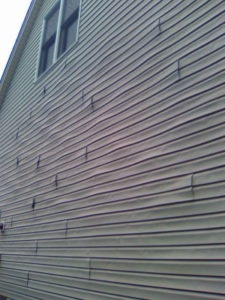 Weatherboards™ Fiber Cement Siding, Lap Siding, Vertical Siding, Shapes, Soffit, Porch Ceiling, and 7/16″ Trim installed before September 30, 2013.  CertainTeed's vinyl siding and polymer shake products are not involved in this litigation. CertainTeed will pay $103.9 million to fund the settlement, which includes attorneys' fees and costs.  The settlement agreement provides a more substantial remedy than is available to property owners under CertainTeed's limited warranty.  The availability of the remedy under the settlement depends upon several factors such as (1) the extent of the Qualifying Damage; (2) the proportion of the wall with Qualifying Damage; (3) the size of the wall; (4) the length of time the siding has been installed; and (5) whether the Qualifying Damage was caused by a third party or as a result of improper installation or storage. The settlement agreement must be approved by a judge — in this case, by United States District Court Judge Thomas P. O'Neill — after a hearing, which we expect to take place on February 19, 2014, in Philadelphia, Pennsylvania. People who own or owned buildings with CertainTeed Fiber Cement Siding and believe they may qualify for a remedy under this settlement can obtain additional information about the settlement by calling 1 (855) 332-3413, or by writing to CertainTeed Claims Administrator, PO Box 2007, Chanhassen, MN 55317-2007." (SOURCE Analytics Consulting, LLC, Claims Administrator) Pacific Exteriors NW can also help recommend attorneys and building consultants with the CertainTeed lawsuit for Portland, OR, and Vancouver, WA owners. Here are some signs to look for: Swelling boards, huge gaps or spacing in the joints/seams, shrinking boards, corners of siding boards cracking, discoloration chalking/fly dust, dry-rot/mushrooms to boards or on trim boards.